The roots of live lecture come from medieval times where proximity was required to efficiently distribute knowledge to groups of learners. The lecturer spoke once, and many people had the chance to receive authoritative information.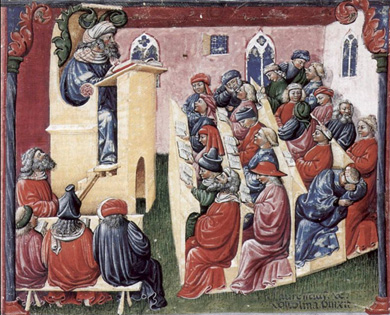 A mid-fourteenth century painting shows varying levels of attentiveness at the University of Bologna in Italy
Old habits die hard and many modern schools still rely on this method.
While the lecture method has some advantages, such as some live interaction with the instructor, a sense of community, and the benefit of experiencing the emotion and passion of the speaker, there are also considerable drawbacks. Students must absorb as a common rate, which slows those with high capacity and overwhelms those who consume information slowly.
The mid 20th-Century advent of recorded media drew us closer to a more efficient model of distribution of learning. With recorded media, the student can pause as necessary, repeat sections, and skip modules that aren't necessary.
The more recent methods that combine on-demand streaming, interactive lessons with online community support, and immediate instructor Q&A blend the benefits of the lecture and instructor interaction without the requirement for proximity and time alignment.
Now we see students absorb lectures at a time, place, and pace that suites them. Time with the instructor is reserved for questions and answers, eliminating the need for repeated lectures, making more efficient use of the instructor's time and knowledge.
Current and future learning systems are increasing the community interaction and are tapping into advanced immersive systems that optimize learning retention through play, social gaming, competition, cooperative projects, and adaptive learning systems that detect strengths and weaknesses and adjust curriculum accordingly.
Looking ahead, we will see education systems borrowing from marketing technology that detects environment and personal circumstances. Rather than serving advertisements, the future education systems will provide situational instruction, much like a personal tutor would.
Online education isn't a panacea that obviates live lecture. Blended learning systems (e.g., flipped classroom) that take advantage of optimized online learning and live instruction are a marked improvement from a sole focus on medieval lecture methods.
Photo: "Laurentius de Voltolina 001" by Laurentius de Voltolina - The Yorck Project: 10.000 Meisterwerke der Malerei. DVD-ROM, 2002. ISBN 3936122202. Distributed by DIRECTMEDIA Publishing GmbH.. Licensed under Public Domain via Commons